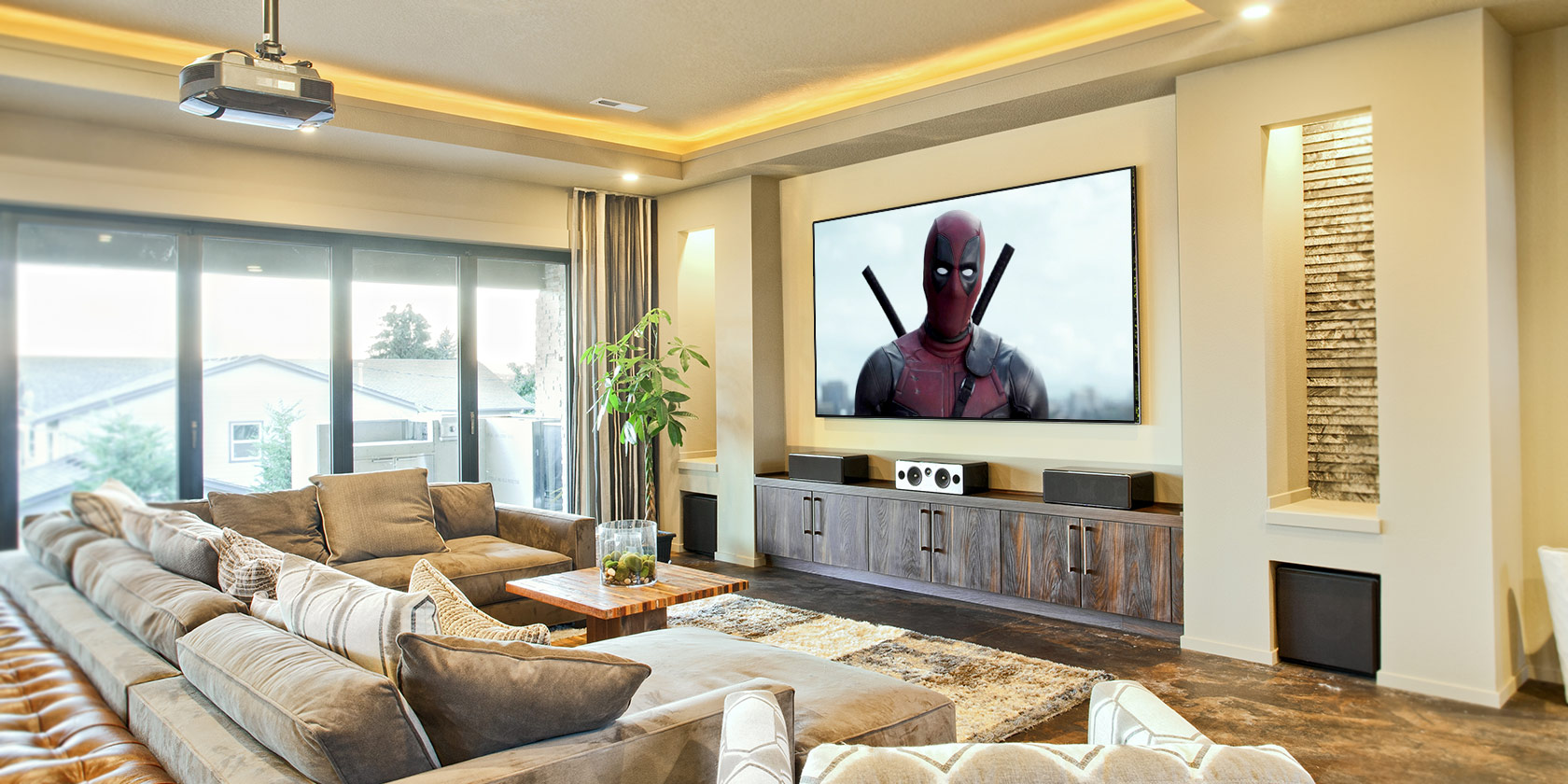 It's easier than ever to build your own home theater! The challenge is to do it without breaking the bank. Surprisingly, a few simple tricks can make that happen.
Among the common mistakes in building a home theater is to under- or over-budget for the project. But by knowing which items you can skip, which you can repurpose, and which budget buys to look at, you can save a few bucks without compromising on the quality of your experience.
In this short guide, you'll learn how to build a home theater on the cheap.
Don't Buy Everything at Once!
Before you start, this is the most important advice you will need. Given the way technology updates these days, you won't find the cutting-edge, future-proof stuff in every category at the same time. So if you try and buy all the parts together, you'll end up compromising, and maybe need an upgrade sooner than you thought.
Instead, buy the can't-do-without components right now, and get cheaper variants for everything else—or skip them altogether. Even for those important components, do your research on how long they will last and spend accordingly.
We'll advise you on some of these aspects in this article, but no matter what, don't purchase everything at once. Stagger your purchases so that you can buy the most future-proof, best-value-for-money components at every stage.
Buy a Good TV and Forget About the Smart OS
Ideally, you need a TV that supports both 4K and HDR. While it will be a smart TV, it's fine if you don't like the operating system or interface. You'll be getting a Blu-ray player or some sort of media center anyway, which will do everything a smart TV does, and probably do it better.
Check out our recommendations for some of the best affordable 4K HDR TVs you can buy. The size is up to you, but for a home theater setup, you will largely be looking at at least 55 inches. Don't worry about the distance as, in a home theater, the rule of thumb is to go as big as you can afford.
A Projector May Not Be Worth the Cost
Instead of TVs, you can also go with a projector, but that raises costs in the long run. Because a projector doesn't have a backlight, you'll need to spend on additional materials like blackout curtains and a projection screen like the Homegear 120HD.
Also, at the time of writing, good projectors with 4K resolution and HDR support are far more expensive than an equivalent-sized TV. And if you're looking to buy a big television set anyway, any reason to buy a projector has been diminished anyway.
Homegear 110" HD Motorized 16:9 Projector Screen W/ Remote Control Homegear 110" HD Motorized 16:9 Projector Screen W/ Remote Control Buy Now At Amazon $ 149.99
Consider Repurposing an Old PC
The chances are you have an old PC or laptop lying around somewhere, or you know someone who does. You can use that to build a great media center PC. It will be the cheapest way to get a good home theater system.
Even if you have to add a few things, repurposing your old PC will be cheaper and make a more well-rounded media unit than any gadget you buy. Yep, even the Raspberry Pi. While we're big fans, there are certain things the "Pi Home Theater" can't do.
The flexibility that a proper computer gives you cannot be compared to what you'll get with even something like a Roku or Chromecast. A PC can do all the tasks a streaming device can do, but it doesn't work the other way around.
More importantly, a PC keeps your options open for the future. You could add a 4K Blu-ray drive, or a better audio card. You could upgrade the processor, or add a graphics card to make it into a gaming console, etc.
If you don't have an old PC lying around, then get the Sony UBP-X700. It's a fantastic 4K Blu-ray player, with support for all your favorite streaming services.
Sony UBP-X700 4K Ultra HD Blu-ray Player (2018 Model) Sony UBP-X700 4K Ultra HD Blu-ray Player (2018 Model) Buy Now At Amazon Too low to display
Start With Cheap Speakers
Don't buy speakers with the "bigger is better" philosophy. Speakers are all about how you set them up, and the quality of the components they use.
You need to buy the right speakers for your room. If you have a small living room, a 9.1 channel setup is overkill. Depending on whether you'll place satellite speakers at the back or the sides, you'll need to choose speakers that offer good bipole or dipole output.
It might sound like a lot of jargon, but the bottom line is, you need to buy what's right for you, which is not necessarily the swanky 7.1 Bose speaker setup you saw at your friend's place.
A home theater system defaults to a 5.1 setup (i.e., five satellite speakers and one subwoofer). Before you purchase anything, figure out where you will place each speaker, how the wiring will work, and other details. Once you have done that, buy the Monoprice 108247 Surround Sound System.
If you're building a new home theater and want to keep the cost low, this is a smart purchase. Remember, you can always upgrade the speakers later.
Monoprice 108247 5.1-Channel Home Theater Speaker System, Six Monoprice 108247 5.1-Channel Home Theater Speaker System, Six Buy Now At Amazon $ 130.80
Universal Remote: Old Androids and Cheap Options
With every HTPC, you will need a good remote control to manage all the different devices hooked up to it. This calls for a universal remote. The best is the Logitech Harmony 650, but if you'd like to save a few bucks, you have a few other options.
Logitech Harmony 650 Infrared All in One Remote Control, Universal Remote Logitech, Programmable Remote (Silver) Logitech Harmony 650 Infrared All in One Remote Control, Universal Remote Logitech, Programmable Remote (Silver) Buy Now At Amazon $ 38.00
If you have an old Android smartphone or tablet, you can turn it into a remote controller for your PC. There are plenty of apps on the Play Store that make make it a breeze to set up all the gadgets on your Android device. The only problem would be if your Android doesn't have an infrared (IR) blaster.
Instead of repurposing your Android, you could also buy a cheap universal remote for just a few dollars.
It's Not Just About the Tech
The tech stuff is only one part of your home theater experience. You'll also need a nice cabinet to put your gadgets, a good sofa or recliner to watch in peace, and maybe a mini fridge for a cold brew. All those costs add up, so don't forget about them.
The good news is that this is one area where you'll find a lot of freebies or sales. Check for local estate sale listings, garage sales, and online person-to-person marketplaces. You'll often find items in good condition for a low price.
You will also save major bucks if you regularly check the Craigslist Free Stuff section for your area.
The Only Place to Splurge: Receiver
The receiver is the most underappreciated and most important part of your home theater. In this one aspect, while you can save some money, we would advise against it.
Think of the receiver like the processor of a PC, the engine or a car, or the patty of a burger. If you get this wrong, the whole thing is ruined. If you get it right, other compromises are bearable.
For most people, the best budget receiver is the Yamaha RX-V485.
Yamaha RX-V485BL 5.1-Channel 4K Ultra HD AV Receiver with MusicCast – Black Yamaha RX-V485BL 5.1-Channel 4K Ultra HD AV Receiver with MusicCast – Black Buy Now At Amazon $ 299.95
Take Your Home Media Center to the Next Level
In our opinion, the screen, the receiver, the media player or PC, the speakers, and the universal remote controller are the must-haves in any home theater setup. But hey, that's just what we unanimously agree on. Some of us say that a home theater is incomplete without a good recliner or sofa, others reckon it's not a home theater if it doesn't support 3D.
While your initial cost will be relatively cheap, keep upgrading the room in small bits and pieces over time. Before you know it, you might even get the IMAX experience in your living room.
Image Credit: Breadmaker/Shutterstock
Read the full article: How to Build a Home Theater on the Cheap